15 Non-Diamond Engagement Rings for Nontraditional Brides
From morganite to sapphire, non-diamond engagement rings are more popular than ever. Here, the best colorful gemstones to choose for your engagement ring.
by Danielle Miele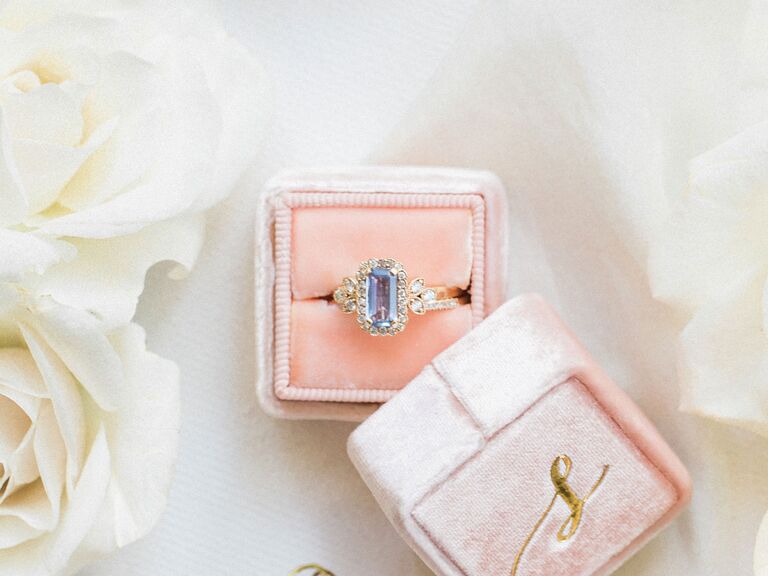 SAMANTHA JAMES PHOTOGRAPHY
Non-diamond engagement rings are having a moment—plain and simple. More couples are thinking outside the box, looking to unique, nontraditional engagement ring options that fit their individual lifestyle and taste. So it's no surprise there's been a noticeable upsurge in non-diamond engagement rings featuring semiprecious gemstones, either in lieu of or in addition to diamonds.
Diamonds have long been a symbol of commitment and eternal love, making them an obvious and coveted engagement ring stone (and don't worry, they're not going anywhere anytime soon). Beyond their radiance and romantic symbolism, they remain a popular engagement ring stone for more practical reasons: Diamond is the hardest material on Earth, ranking a 10 on the Mohs hardness scale.
Considering most people wear their engagement ring every day (often ignoring the advice to remove it when working out, gardening, cleaning and so on) their ring's durability is super important. With that in mind, if you're considering a non-diamond engagement ring, you'll want to know which gemstones look stunning and stand the test of time. You should study up on gemstone hardness and think about how you, personally, live your life and wear jewelry. Do you hit the gym every day? Does your job require you to use your hands a lot? Are you constantly knocking your hands on things?
There are so many beautiful, colorful and unique non-diamond engagement ring options, and choosing one definitely has its upsides. One of the huge ones? Gemstones are often (though not always) less expensive than diamonds of comparable size. And if you love the idea of wearing an heirloom ring, there's a treasure trove of vintage non-diamond engagement ring options to choose from  (foregoing diamonds isn't just a trend—brides of all eras coveted non-diamond center stones too). As long as you do your research to find a reputable source, you can look for non-diamond engagement rings on Etsy or at a local vintage jewelry store.
While nothing can technically match the strength of a diamond, these five gemstones offer similar strengths, making them gorgeous alternatives to a diamond engagement ring—perfect for anyone who wants to put a little twist on tradition.
Sapphire Engagement Rings
Sapphire, September's birthstone, is most known for its blue hue, but you might not realize it comes in a variety of other colors like pink and yellow. Ranking a 9 on the Mohs scale of mineral hardness, sapphire is one of the most scratch-resistant and durable materials after diamond. Kate Middleton's iconic sapphire engagement ring, made famous by Princess Diana before her, has definitely had a hand in sparking the blue sapphire engagement ring craze that just won't quit.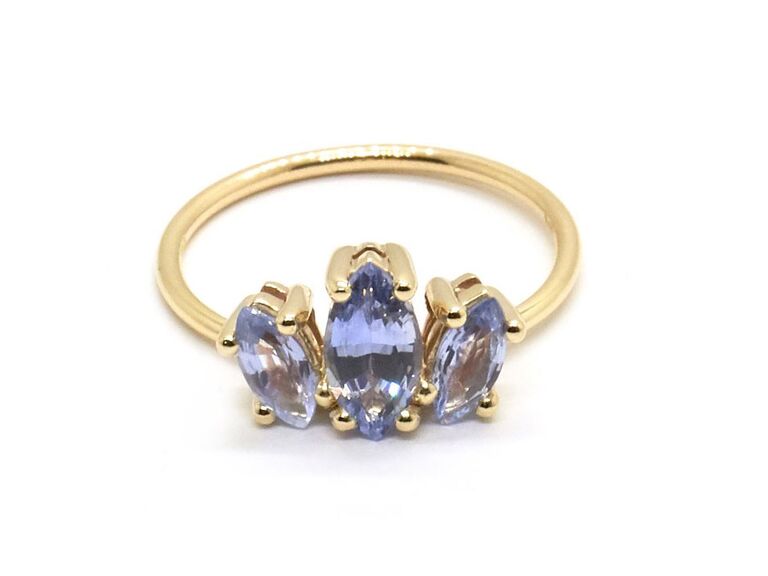 1. Natalie Marie Jewellery Marquise Sun Ring with pale blue sapphires, $1,195, NatalieMarieJewellery.com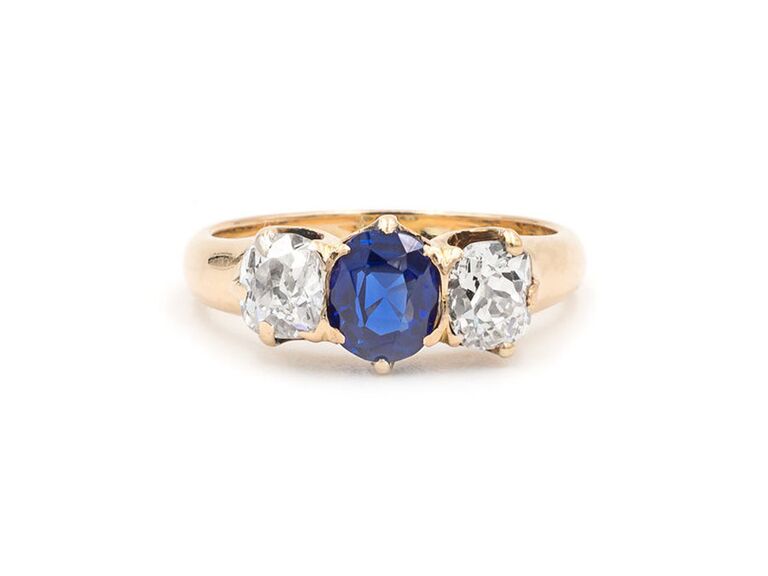 2. The Moonstoned The Sophie Amalie sapphire ring, $3,100, TheMoonstoned.com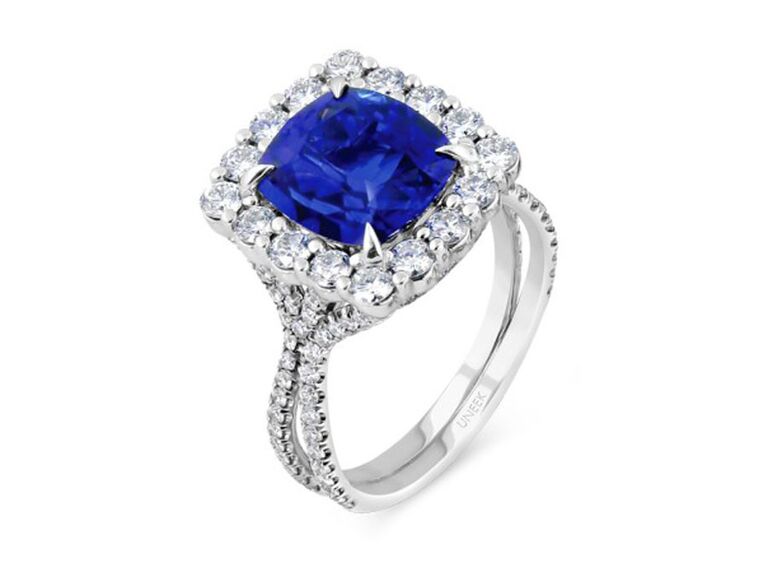 3. Uneek Jewelry cushion-cut sapphire engagement ring, price upon request, UneekJewelry.com
Morganite Engagement Rings
Morganite is probably one of the most popular diamond alternatives right now. It not only has a warm, peach-pink hue that works flawlessly with a trendy rose-gold setting, but it also ranks a 7.5–8 on the hardness scale—so it's okay to wear every day, with caution and care. The blush-pink color feels romantic and fresh, but somehow still timeless. Let's just say you'll definitely want a photo of your morganite engagement ring while toasting with a glass of rosé champagne.
4. Effy blush 14-karat rose-gold morganite and diamond ring, $1,195, EffyJewelry.com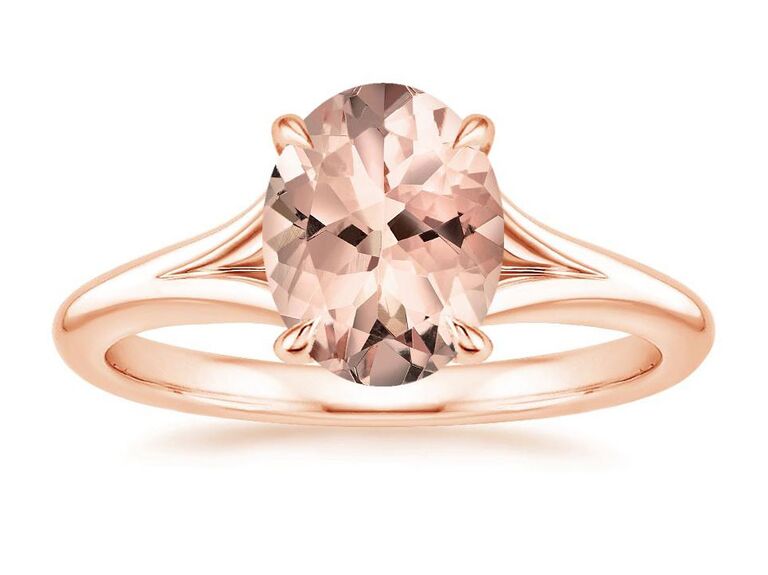 5. Brilliant Earth oval-cut morganite Reverie ring, $1,740, BrilliantEarth.com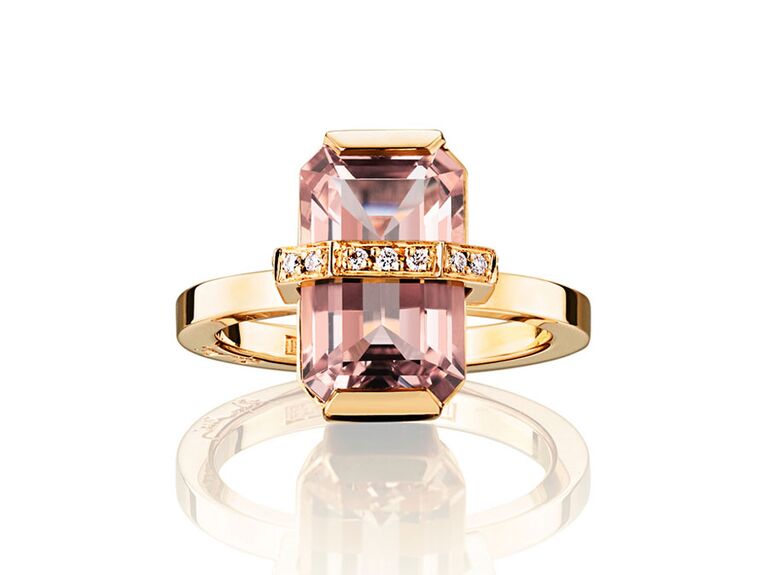 6. Efva Attling Little Bend Over morganite ring, $4,700, EfvaAttling.com
Ruby Engagement Rings
Red is the color of passion—so what better way to represent your love than with a ruby engagement ring? Rubies rank a 9 on the scale of hardness—same as sapphire because they're in the same gem family, Corundum. Several celebrities rock ruby engagement rings, including Katy Perry, Jessica Simpson and Eva Longoria.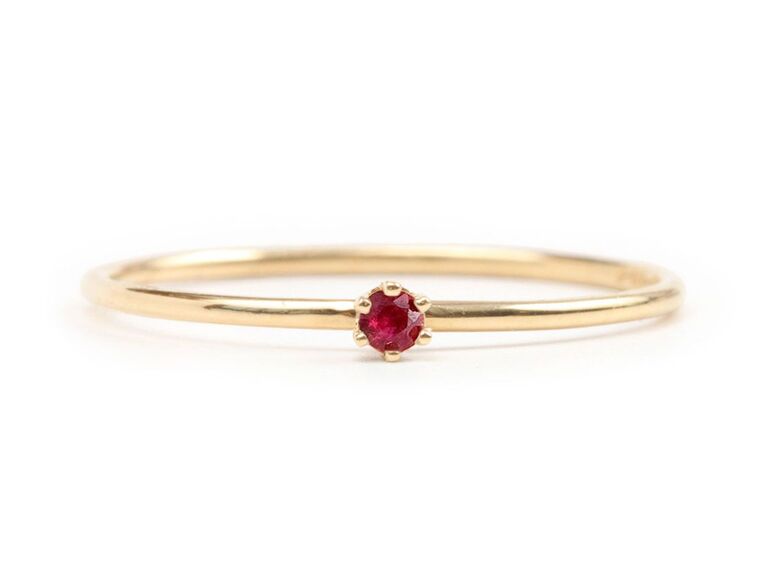 7. Satomi Kawakita The Tiniest Ring solitaire ruby, $210, CatbirdNYC.com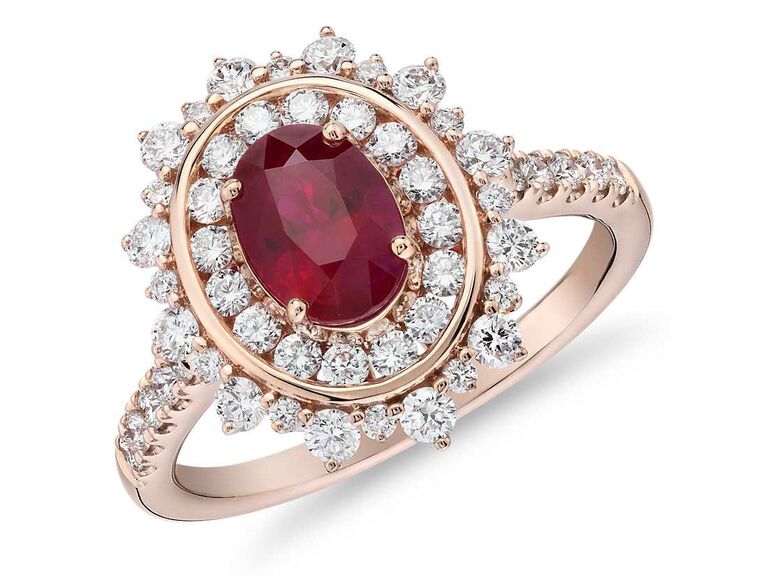 8. Blue Nile oval ruby ring with double diamond halo, $2,980, BlueNile.com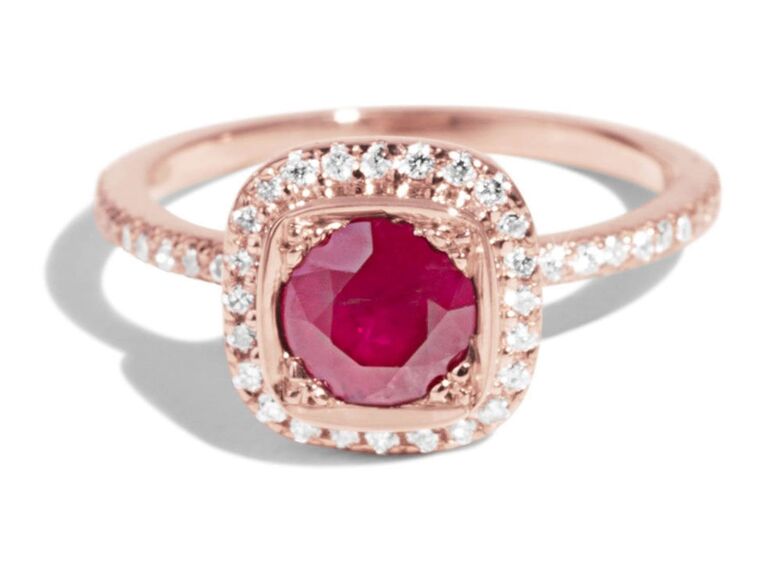 9. Bario Neal custom Quince ruby and diamond halo ring, price upon request, Bario-Neal.com
Quartz Engagement Rings
Quartz is one of Earth's most abundant minerals. You might know its purple version as amethyst, yellow as citrine, brown as smokey quartz, and so on. Looking for an edgier quartz engagement ring? You'll love what's called rutilated, or tourmalinated, quartz: clear quartz with rutile or tourmaline inclusions. Quartz picks up these inclusions while growing deep underground, and they manifest in all sorts of exquisite patterns to make each one truly one-of-a-kind. Our only caution is that quartz ranks at a 7 on the Mohs hardness scale, which makes it a little on the softer side. If you're very active (or prone to clumsiness—no judgement), take that into consideration before settling on a quartz engagement ring.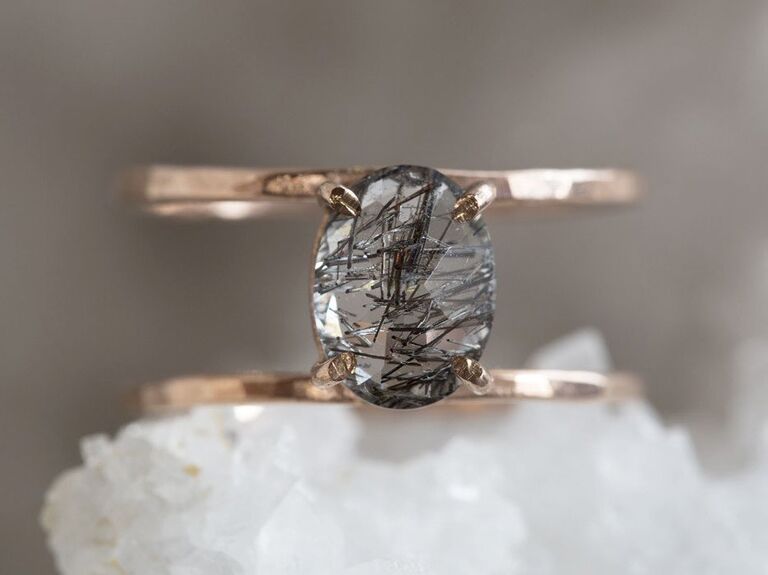 10. Alexis Russel tourmaline in quartz cage ring, $298, AlexisRussel.com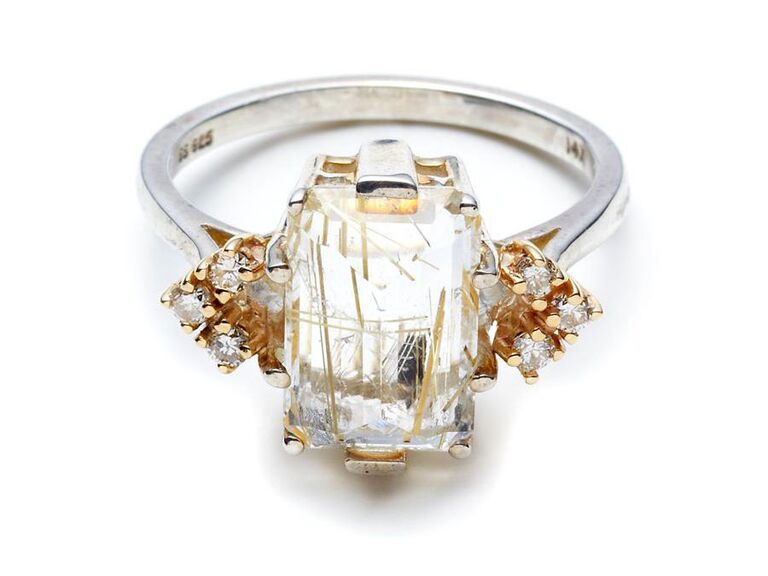 11. Anna Sheffield Bea Arrow golden rutilated quartz  ring with champagne diamonds, $1,350, AnnaSheffield.com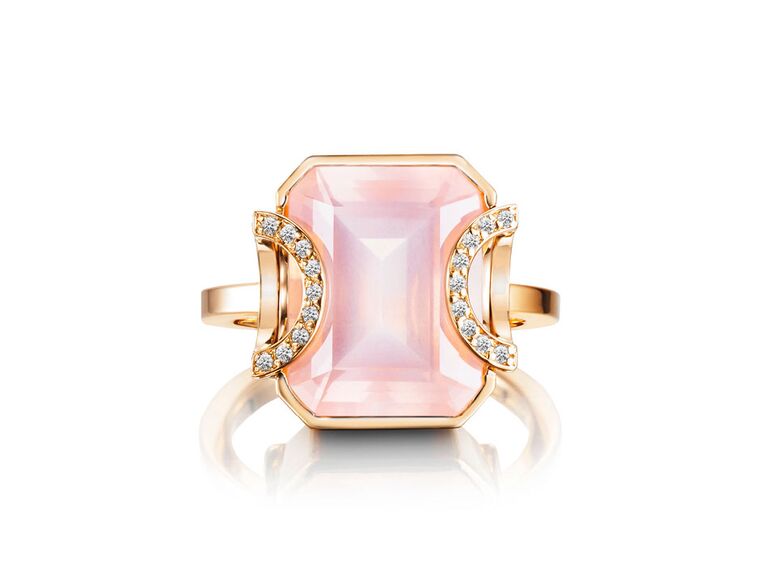 12. Efva Attling Little Magic Star ring with emerald-cut rose quartz and diamonds, $4,700, EfvaAttling.com
Tourmaline Engagement Rings
Tourmaline is a semiprecious stone that comes in a rainbow of hues, including watermelon tourmaline (green around the edges and pink in the middle). Tourmaline is a 7–7.5 on the hardness scale, so like quartz, it makes a beautiful non-diamond engagement ring stone—as long as you take good care of it. While you can find tourmaline in a range of colors, from bubble-gum pink to crimson, green (and blue-green) tourmaline is a popular engagement ring centerstone among brides.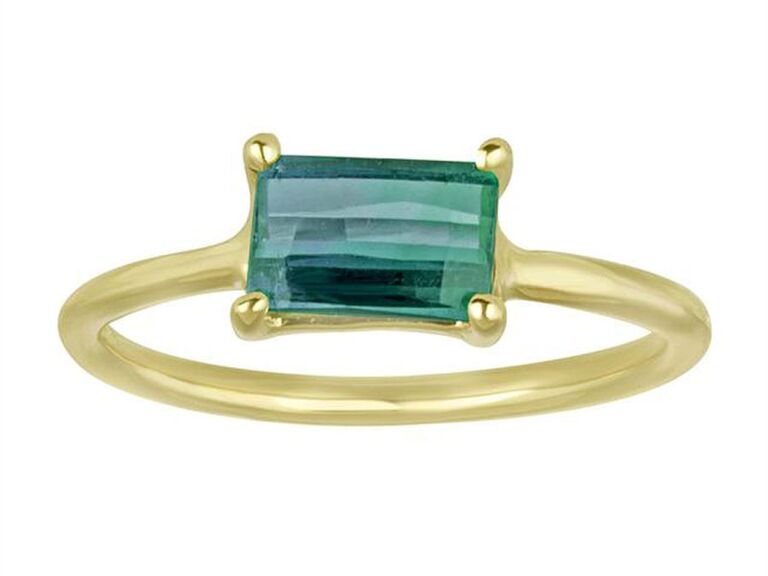 13. Eden Presley blue-green tourmaline ring, $440, Swoonery.com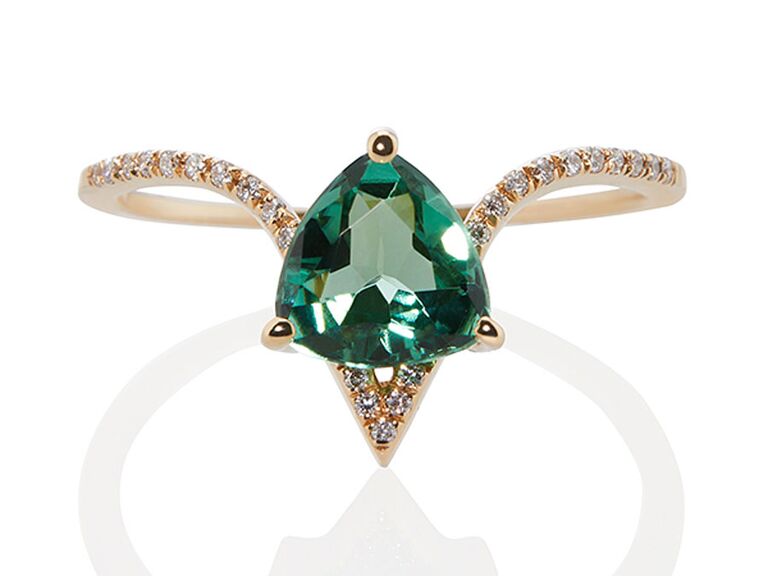 14. Vale Jewelry Venus ring with trillion-cut green tourmaline,$1,950, ShopVale.com
15. Marrow Fine Looking West tourmaline ring, $4,850, MarrowFine.com
Danielle Miele is the founder of the longest-running, US-based fine jewelry blog called Gem Gossip. She is also a graduate gemologist who's been appraising jewelry professionally for   eight years. You can currently find Danielle traveling the world covering jewelry stories, visiting stores and designers, and collecting antique jewelry (she has over 300 rings).
---